South west Nicaragua delivered one of the largest swells Courtesy of mother nature May 2 - 5, 2015. those of us who paddled out one day or all five at any given surf break got the crap beat out of them!
As I write this, the smell of Tiger Balm and a mix of essential oils fills the air and even though I just woke up, I´m tired. You must be feeling the same after that last swell and here it comes again! My upper and middle trapezius muscles are extremely tight as the whole right side is laden with muscle spasms. During yesterday´s surf session I could barely look over my right shoulder but that did not keep me out of the water. Not to mention, the bruise on my left upper thigh is a reminder of getting smoked by the lip of an unforgivable wave and being nailed by my board on the way over the falls, awe the impression one wave can leave, literally. Not to mention the countless jellyfish stings and shark sightings, but that is just part of the game. Two days ago having comforted a neighbor after she lost her fiancé to the sea a man´s voice over the breaking waves yesterday calling for help could not be ignored. Paddling over to him quickly as possible became urgent. After calming him down, I managed to get him safely to shore, he had exhausted himself trying to escape a strong rip current. If this happens to you, paddle horizontally toward the shore, not straight in until you escape it, try not to panic and call for help.
This morning I drug my sorry ass out of bed, rubbed my injuries down with essential oils, popped an ibuprofen, drank a glass of lime water and laid on my yoga mat with a massage ball. (highly recommend traveling with one of these along with some essential oils which I will mention further down this blog). This is all I could do to ease the pain and hopefully get back out there this afternoon. I mean really, all surfers care about is paddling back out, no matter how severe the consequences are. I´ll be honest, I´ve been lazy on doing my regular yoga practice and I have no excuses, this injury is like nails on a chalkboard reminding me why I need to get back on track and here is how I will do it!
When the waves are firing, you need to be at the top of your a-game !!!
Here is how to put the love back in ...
1. Sleep
Sleep is the most important time to recover and adequate sleep provides mental health, hormonal balance, and muscular recovery.
TIPS
Sleep 7 - 10 hours per night! Athletes needing more recovery time require 10.
A minimum of 7 hours is necessary but 10 is best for most athletes who surf hard or big waves. Everyone is different but you know what you need, listen to your body.
Go to Sleep Before midnight! Hours slept before midnight are the most crucial in recovery.
Rise with the Sun! Waking up with the sun, not hard in tropical countries will give you the most energy for the day, setting your rhythm with mother nature´s clock is the most natural and beneficial to recovery and increasing energy levels.
Sleep with Fresh Air! Try to avoid air conditioning as it removes the necessary moisture from the air and your body, fresh cool air is best. Sleep with a fan and in the most natural environment as possible without artificial light.
2. Hydration
Water Water Water! Beer and coffee does NOT count! A surfer cannot drink enough water. Most of the time we are in the sun and salt all day which is very dehydrating. Add the love back in and drink as much water (not beer or coffee) as you possibly can. Alcohol and coffee are dehydrating and should only be consumed after you have had plenty of water. You should be waking up in the night to pee, this is an indication that you are drinking enough water.
Tips
Upon waking, drink 2 large glasses of water before you have your morning coffee. Herbal Tea is better but I´m a coffee drinker so I get it. Try to drink water or fresh fruit juice before you consume coffee. Remember, you have just slept 7-10 hours without anything and your body starts from a dehydrated state.
Add lemon or lime to your water for added vitamins and flavor. (Essential oils)
Watermelon juice with lime and Himalayan sea salt are very hydrating.
Fresh fruit juice made from a juicer or blender, not bought from the store can be consumed in addition to water but not in substitution.
Go to sleep with a glass of water by your bed. If you wake up in the middle of the night, drink the whole glass or drink it upon waking.
3. Eat healthy
Nutrition. If you are traveling it is important to select healthy options for yourself. Make sure to eat as many whole fruits and vegetables as possible.
Tips
If you are in Nicaragua, you can easily buy and prepare fresh fish and seafood. Serve with beans and small portions of rice and avocado without breaking the bank. In a restaurant ask for beans and rice served separate because in Nicaragua they don´t use the best cooking oil when they mix the beans and rice in a not so healthy dish called gallo pinto. Ask for boiled plantains, not fried.
Bring healthy snacks with you from home as most small towns in Nicaragua do not carry healthy options. Although cashews and raisins are available, you may want to bring a variety of nuts, salmon jerkey, dried fruit such as blueberries. A jar of natural peanut butter and a spoon.
Your diet is key for reducing inflammation. Anti-inflamoatory foods Ginger and turmeric (add to smoothies or to any seafood dish). Avocado, fish, leafy greens, dried blueberries, garlic.
Replacing processed foods with whole, ideally organic foods will automatically address most of these factors, especially if you eat a large portion of your food raw.
If you are lucky enough to have surf where you live cook for yourself as often as possible so you know what is going into your food. Try to shop organic and the perimeter of the grocery stores and avoid the center isles where all of the processed foods are.
4. Yoga, Stretching, Self -Massage
You need enough flexibility to move well in and out of the surf and remain pain free.
Tips
Stretch daily!
Attend a daily restorative yoga class or a class with stretches geared toward surfers.
Get a weekly or monthly sports therapy massage. If you don´t have the budget for yoga or massage do your own stretching and self care-massage with a massage ball or tennis ball. Learn a few key yoga stretches and do them on your own.
Don't get caught doing the exact same stretches you've always done. If you don't know any new variations ask a yoga teacher friend for tips, look through youtube, read magazine articles while on your flight, attend a yoga class before traveling or seek out a yoga or a massage studio while on the road and always be learning.
Self Massage. Self-identify tight areas and work on them. Travel with a massage ball or tennis ball that you can use on your trigger points, the tight spots in your muscles. You can simply lay on your massage ball, as you use your body for pressure and movement to encourage the ball to get to those deep spots and also encourage your muscles to relax. They are perfect for releasing tensions in the shoulders, back, legs, buttocks and neck. Use them as a massage tool and include them as part of your warm up stretching in the morning and before bed. Tight muscles and trigger points sometimes need assistance to return to healthy normal tissue.
Yoga pre-surf stretches can be done on the sand before entering the water or at home before you leave the house. You don´t need an hour, 15 - 20 minutes is better than nothing!
Increase your under water time. Sit in a comfortable seated position, start by matching your inhales to your exhales with a 4 - 6 second breath count and then hold it in between each inhale and exhale. Start each morning with 10 reps. This will also help when surfing big waves. Clear your mind. Make space before you enter the water. This will also eliminate stress and an anxiety you experience through the day.

First Aid Kit
Your First aid kit should also contain the following natural remedies
Oregano -an anti-inflamatory spice or essential oil that can be added to food. Consume a few drops of essential oil in a glass of water if you feel a cold coming on. Boost immunity.
Garlic pills if fresh garlic isn´t available you can resort to your Garlic pills. Garlic has been treasured for its medicinal properties for centuries. It's also one of the most heavily researched plant foods around. Over 170 studies5 show it benefiting more than 150 different conditions. Garlic exerts its benefits on multiple levels, offering anti-bacterial, anti-viral, anti-fungal, and antioxidant properties. take daily while traveling to boost your immune system.
Purchase a therapy Massage Ball or a tennis ball will do and travel with it.
Apply Tiger Balm for sore muscles before using the Massage Ball or getting a massage.
Essential Oils (see below for more details on which oils to choose and why).
Tumeric powder to add to smoothies or meals at home or on the road.
Himalayan Sea Salt for added minerals and hydration at home or on the road.
Health begins from the inside out. Kelly Slater is still wining high level competitions because he takes care of himself. Someone like Kelly has coaches and people on hand that have helped guide him throughout his career. Reach out when you need advice or guidance. Do your own research. Listen to your body. Be good to yourself, feel good and surf good! Have fun out there and be safe.
From one surfer to the next. Love love love from Nicaragua,
Feel free to email me with any questions or concerns you may have. Keep reading for essential oil and ant-inflammatory information. Come stay at Casa Santosha and together let´s practice all of the above. For more photos and information surfing in Nicaragua check out Seeking Santosha Nicaragua.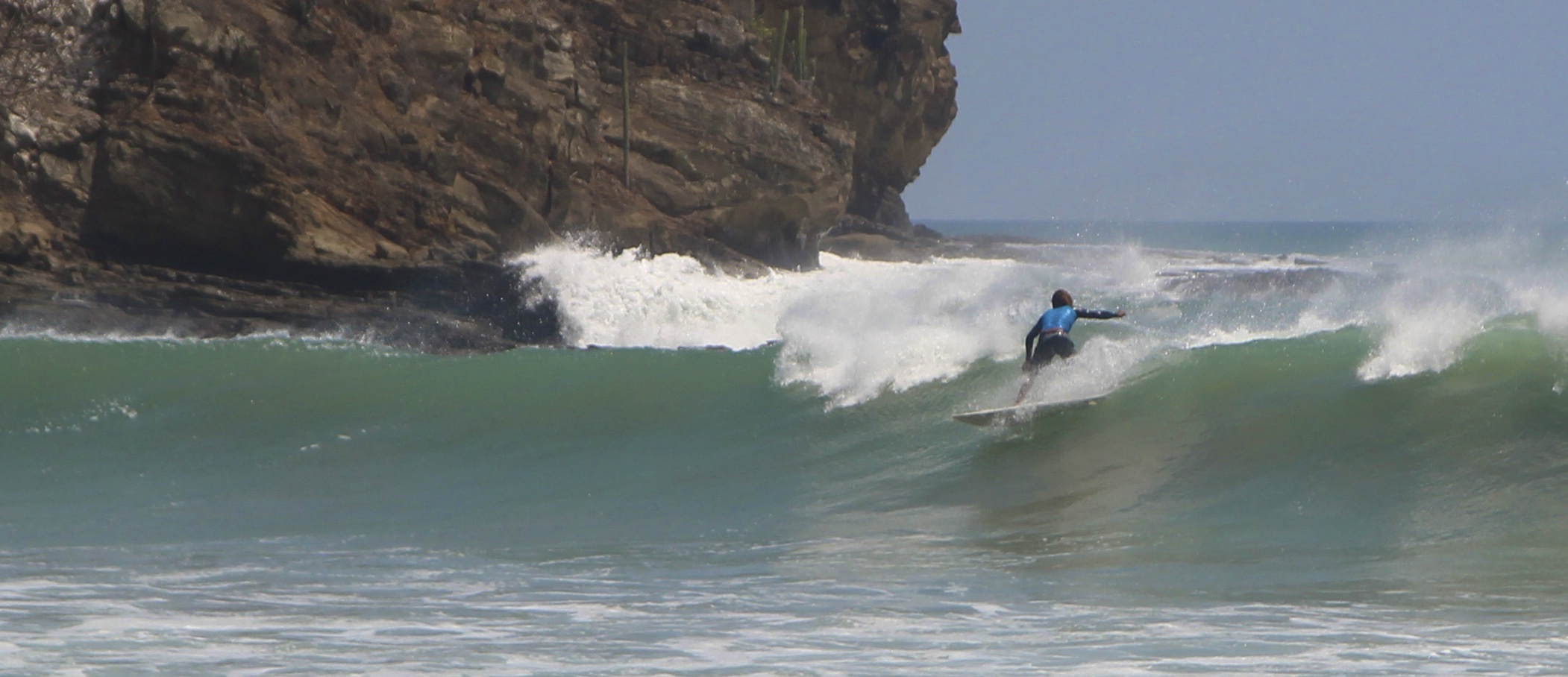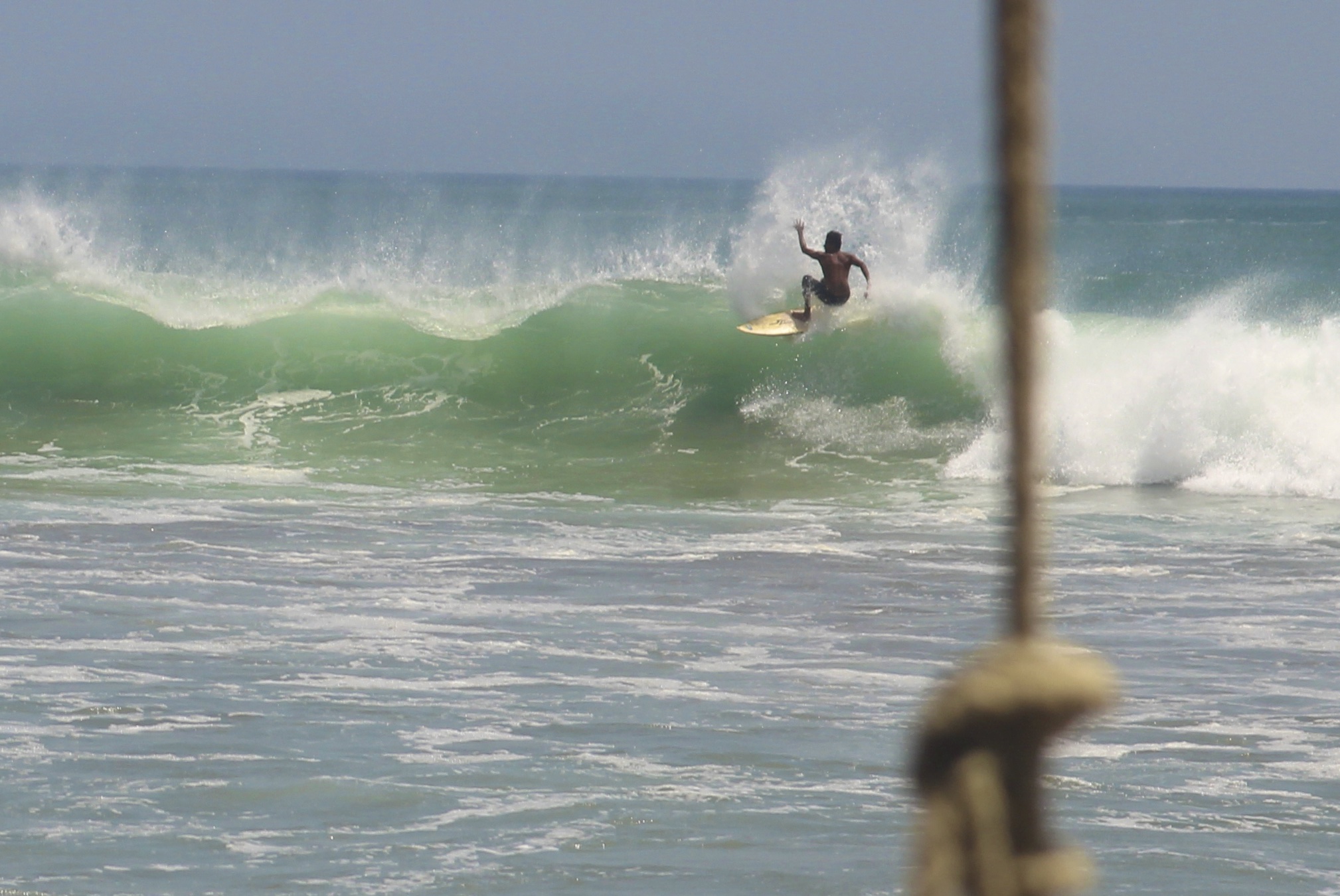 My favorite oils to travel with and why ...
Deep Blue®
Soothing Blend - According to recent studies, more than half of us are sufferers of ongoing discomfort. Deep Blue® is dōTERRA®'s soothing solution to this challenge. Wintergreen, camphor, peppermint, blue tansy, blue chamomile, helichrysum and osmanthus work together to ease achy joints and sore muscles. Its effects are deep and penetrating with sustained results. Once gently rubbed into the area of discomfort, Deep Blue's cool therapeutic benefits.
DigestZen®
Digestive Blend - Many essential oils have been recognized through research as powerful agents to help restore normal balance in the digestive system. DigestZen® takes advantage of these well-established therapeutic compounds in a proprietary blend of pure essential oils. Ginger, peppermint, tarragon, fennel, caraway, coriander and anise each have specific attributes which add to the overall efficacy of this potent blend. When used internally, dōTERRA®'s DigestZen brings soothing digestive relief. For aromatic, topical, or dietary use.
TerraShield®

Outdoor Blend - TerraShield® is an all-natural formula of citronella, cedarwood, and a blend of 11 other therapeutic-grade essential oils blended in a base of pure fractionated coconut oil. A primary function of essential oils in plants is protecting against insects and other predators. Unlike other products that contain synthetic and toxic chemicals, TerraShield is a natural approach to managing exposure to biting insects. TerraShield's fresh, light citrus smell is wonderfully invigorating and can be used safely by everyone in the family. One application provides coverage that lasts up to 6 hours. TIPS add to a spray bottle mixed with water and coconut oil to mist the air around you. Be careful, oil may stain clothing if sprayed directly onto self. Mix with pure coconut oil and rub on after getting out of the shower.
Lavender
Lavandula angustifolia - Our most popular oil, lavender has been cherished for its unmistakable aroma and its therapeutic properties for thousands of years. Lavender is widely used and accepted for its calming and relaxing qualities. For topical, aromatic, or dietary use. TIPS Put on your pillow at night or a small drop under your nostrils. Rub a drop on your hands and over your temples. Add to coconut oil for a relaxing massage. Add to water or lemonade. Add to a spray bottle of water and mist yourself when hot - combine with lemon oil for a refreshing yet calming blend.
Melaleuca | Tea Tree Oil
Melaleuca alternifolia - Recognized by its more common name "tea tree", melaleuca has been revered for its cleansing and regenerative properties, especially for the skin. Composed of more than ninety different compounds, melaleuca has limitless therapeutic applications. For aromatic, or topical use. TIPS put on pimples, cold sores, bug bites, reduce the size of moles, use a few drops on a dry tampon for yeast infections.
Oregano
Origanum vulgare - Hippocrates, the father of medicine, used oregano as a cleansing agent as well as for digestive and respiratory support. High in antioxidant activity, oregano contains phenolic acids and flavonoids. For aromatic, topical, or dietary use (dilute when using topically). TIPS add to pastas, or add a few drops into a glass of water to boost immunity daily or when you feel a cold coming on.
Lemon
Citrus limon - Another favorite, this essential oil powerhouse is cold-pressed from lemon rinds to preserve its delicate nature and potent properties. Lemon is known as a powerful aromatic, topical, and internal cleanser that can be used to complement many other oils. Diffusing lemon in a room can cleanse the air and uplift mood. It can also be used on surfaces throughout the home as a non-toxic cleaning booster. For aromatic, topical or dietary use. TIPS add to flavor water or smoothies, add to seafood dishes when cooking or baking. Add to a spray bottle of water and mist yourself or friends when hot.
©dōTERRA Therapeutic Grade Essential Oil Consultant: (HEIDI A PARKER - 1208906 ) Feel free to Order here: http://mydoterra.com/seekingsantosha
Why use essential oils over prescription drugs?
There is a subtle bio-energy that flows through all organic life. It goes by many names and is sometimes referred to as Chi or life force. This energy is expressed as an electromagnetic vibrational frequency – and pure essential oils have the highest frequencies of any measured natural substance with can assist in healing the body, cells, and tissues faster. Read more http://www.biospiritual-energy-healing.com/vibrational-frequency.html
Why avoid Inflammation?
Inflammation is a protective response that involves immune cells, blood vessels, and molecular mediators. The purpose of inflammation is to eliminate the initial cause of cell injury, clear out necrotic cells and tissues damaged from the original insult and the inflammatory process, and to initiate tissue repair.
The classical signs of acute inflammation are pain, heat, redness, swelling, and loss of function. Inflammation is a generic response, and therefore it is considered as a mechanism of innate immunity, as compared to adaptive immunity, which is specific for each pathogen.
Inflammation is tightly regulated by the body. Too little inflammation could lead to progressive tissue destruction by the harmful stimulus (e.g. bacteria) and compromise the survival of the organism. In contrast, chronic inflammation may lead to a host of diseases, such as hay fever, periodontitis, atherosclerosis, rheumatoid arthritis, and even cancer (e.g., gallbladder carcinoma). Inflammation is therefore normally closely regulated by the body.